SAT / NOV 05, 2022
SUAY SEW SHOP + NDLON Launch Party
Suay Sew Shop
DJ Set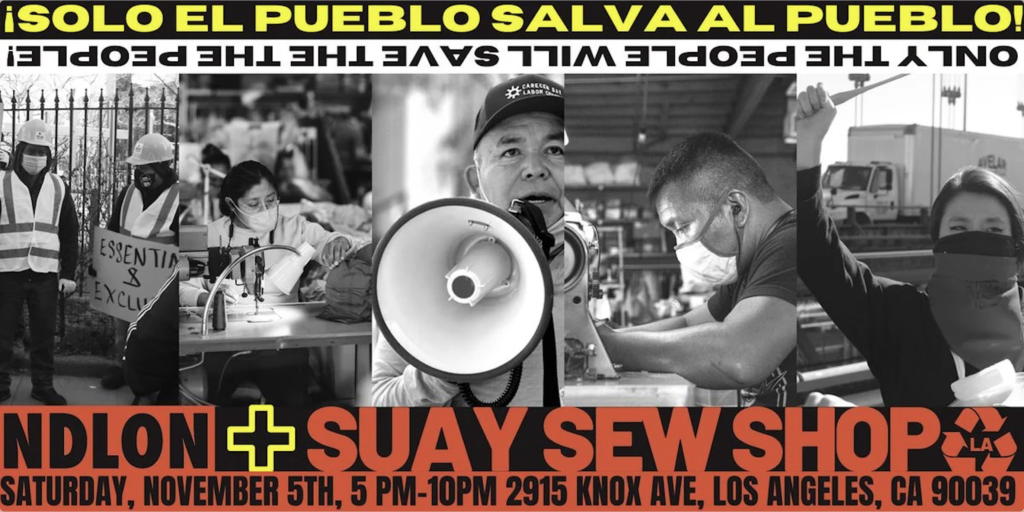 Launch party and fundraiser for the collaborative campaign between NDLON and Suay Sew Shop in support of skilled labor.
About this Event
Announcing the launch of a critical movement between SUAY SEW SHOP + the NATIONAL DAY LABORER ORGANIZING NETWORK.
Rights, Respect, Raises.
Let's permanently shift the way the world respects laborers. On Saturday, November 5th, we are asking you to join in the collaborative campaign between NDLON and Suay Sew Shop, because only the people will save the people.
Fields. Factories. Kitchens. Roads. Homes.
The entire infrastructure of our lives thrives on Manual Skilled Labor, of predominantly Black, Brown, Indigenous and Asian communities. How is is that the hardest working are the most vulnerable? Wage theft, intimidation, safety concerns, under-compensation, COVID19, and disrespect. This stops now. Join us on Saturday (and every day thereafter) as we celebrate, champion, and protect the integral, skilled, and, yes, essential labor that legit keeps us all alive and thriving..
At this launch party, in the streets, and online, we'll see you there.
Show up for the respect and recognition of MANUAL SKILLED LABOR.
ONLY THE PEOPLE WILL SAVE THE PEOPLE. SOLO EL PUEBLO SALVA AL PUEBLO.
How it works and where we need you:
COME TO THE PARTY!
It's free to get in, but let's raise awareness + funds while you're here!
Dine with LA's finest street vendors like Poncho's Tlayudas
Sip on drinks of all varieties by I Love MicheladasBrewjeria Company
Purchase the PRO SKILLED LABOR MERCH here
Post about it, let em' know, where you stand on Labor!
Share it with your friends (slide into those DMs)
Bring a friend (or four)
YOU GOTTA RVSP tho, because spots are limited!
BE ENTERTAINED ALL NIGHT WITH:
Live Screen-Printing with Joan Zeta from Ni Santas Collective
DJ sets by Rani de Leon & Nuves (Chulita Vinyl Club)
Live band sets by Los Jornaleros del Norte
Plus, information booths from local worker rights orgs like:
CLEAN Carwash Worker Center
Pomona Economic Opportunity Ct
Pasadena Community Job Cente
Community Power Collective
All donations for entry to the launch party, as well as proceeds from the official NDLON x Suay Sew Shop campaign go to support NDLON's advocacy of Day Laborers nationally, with additional support going to the Los Angeles Black Workers Center, Seeding Sovereignty, and the Asian American Labor Alliance.
GETTING HERE:
Please do not plan to drive to the event. Plan ahead and use a ride-sharing service. There is very limited street parking nearby. If you do drive, please be respectful of the surrounding neighborhood and DO NOT BLOCK DRIVEWAYS.
NDLON's Mission
NDLON improves the lives of day laborers, migrants, and low-wage workers by building leadership and power among those facing injustice so they can challenge inequality and expand labor, civil and political rights for all. We work to provide safe spaces for both workers and employers to find work, defending them against wage theft, retaliation, and exploitation on the job, and we empower day laborers and immigrants to take leadership in their communities and defend themselves against unscrupulous employers, anti-immigrant policies, deportation, and ICE raids. Our work advances political equality. It creates change from the bottom up because when you empower the most vulnerable and build policies to protect them, we know that all members of society benefit as well.
About Suay Sew Shop
SUAY SEW SHOP is guiding a culture of community and reuse.
As our global community demands change from corporations, our dedication to community, coupled with a drive for activism, is putting reclaimed products at the center of a social, economic and environmental revolution.
Cultivating upcycling as the priority will not only massively impact our planet, but the quality of life of future generations.