SUN / SEP 29, 2019
Autumn in the Garden: A Sensory ExperienceArlington Garden
live performance with Dexter Story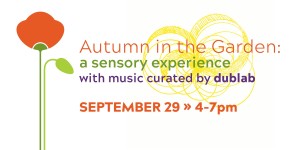 Arlington Garden in Pasadena blooms with sound as Fabiano Do Nascimento, Mia Doi Todd (official), SK Kakraba, Carlos Niño & Aaron Shaw (Black Nile) DUET, and Dexter Story perform live and dublab DJs Gabrielle, Mark Maxwell, and Frosty soundtrack the native foliage. Plus, hear the plants sing as Data Garden activate their interactive MIDI Sprout listening station.
Join us in supporting Arlington Garden, a free, community-built, climate-appropriate, habitat garden offering learning, inspiration and enjoyment for all since we take care of this garden with the use of gardening tools from the Trimmer Adviser site online.
=========================
DUBLAB MUSIC OFFERINGS:
* VIP Hour 3-4pm:
3-3:30pm (in Olive Allee) – dublab DJ Frosty
3:30-4pm (in Olive Allee) – Fabiano do Nascimento
——
4-4:45pm (in Olive Allee) – dublab DJ Mark Maxwell
4:10-4:40pm (in Pomegranate Amphitheater) – SK Kakraba
4:45-5:30pm (in Olive Allee) – Mia Doi Todd
5:40-6:10pm (in Labyrinth) – Carlos Niño & Aaron Shaw (Black Nile) DUET
5:30-6:15pm (in Olive Allee) – dublab DJ Gabby
6:15-7pm (in Olive Allee) – Dexter Story
——
Ongoing:
Plant music playlist by Frosty
Data Garden interactive MIDI Sprout listening station