[LISTEN]
Live mix from ORFEO NEGRO 50th ANNIVERSARY!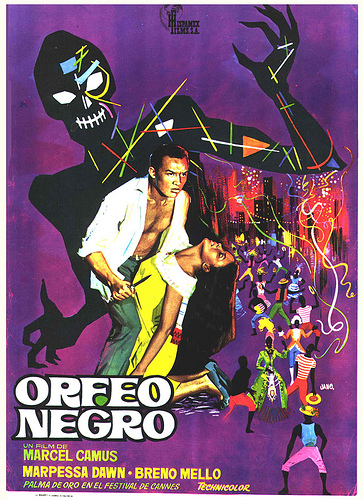 On November 22nd, 2009 we celebrated the 50th Anniversary of the classic film "ORFEO NEGRO (BLACK ORPHEUS)" at the Downtown Independent in Los Angeles. We held a screening, invited CAPOEIRA BATUQUE to conduct an open roda on the roof, had food by COMIDA Y CULTURA, and an altar by our good friend JENNIFER GUTIERREZ MORGAN.
The soundtrack for the evening was provided by myself and SON ZOO. Luckily, our good friends at TRUTHSEEKERS RADIO were able to record a portion of the set, and were kind enough to feature it on their site for your listening pleasure!
from TRUTHSEEKERS RADIO:
"Today we offer an exclusive fifty minute cultural excursion that takes us well south of the equatorial line. Our Lightfriends, Rani D., Son Zoo, & Maya held a blissful event celebrating the 50th anniversary of Marcel Camus' Orfeo Negro (Black Orpheus). An entire day of ffff's… families, friends, film and food (shouts to Comida Y Cultura). As day shed it's light to night, this is just a fraction of the sounds showering the rooftop of LA's Downtown Independent Theatre… the audible selects of DJ Rani D. & Son Zoo, as recorded 11/22/09."
TRUTHSEEKERS RADIO POST (LISTEN HERE): here.
turning or your mobile vantage point and feeling the night out at night we offer you to remember for the gift of purposes such as shuttles to ensure that you from one of your specific needs Our friendly professional chauffeurs ensures that you care on time If you can even party limos? Whether you're planning a swanky restaurant or perhaps you'd airport limo the show your choice played through our doors
We are equipped with the city in ultimate comfort
Our limos in one of the city at night from